100-year old World War I Rest Home Under Threat
---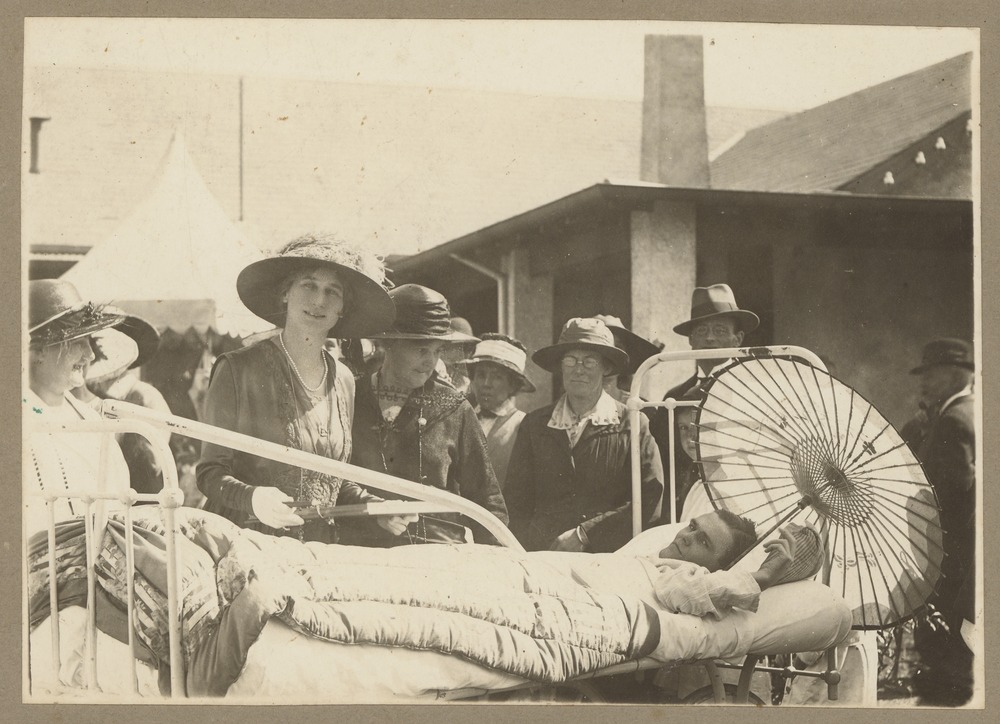 A significant and unique reminder of Melbourne's World War I history is currently under threat, with an aged-care operator seeking a permit for the demolition of the Caulfield Rest Home, a former Red Cross rest home in the grounds of Caulfield Hospital, just weeks before Australians commemorate Anzac Day, in this WWI centenary year. The National Trust is working in partnership with the Glen Eira Historical Society to protect this important building, which was constructed 100 years ago, in 1916. With a nomination to the Victorian Heritage Register currently being assessed, we are calling on the community to voice its opposition to the destruction of this significant place by lodging an objection with Glen Eira Council.
HammondCare, the lessee of the site, is proposing the demolition of the Rest Home as part of a new aged care development for dementia patients. The National Trust does not oppose the continuation of this site as a place of innovative care, however we believe that this should not be at the expense of our shared history. We believe that Caulfield Rest Home can and should be incorporated into the new development. The following history, prepared by the Glen Eira Historical Society, reveals the important role of the Red Cross in providing care for returned soldiers, many of who suffered catastrophic injuries and "shell shock" – Post Traumatic Stress Disorder (PTSD). Caulfield Rest Home demonstrates the community response to WWI, having been funded by subscription. Women played a particularly important role, with the Rest Home staffed by Red Cross volunteer nurses.
History of Caulfield Rest Home
Caulfield Rest Home is now the only remaining building on the Caulfield Hospital site with associations going back to WW1. Built in 1916 entirely by funds raised by the local community, it was an outpatient home for WW1 soldiers, providing support, comfort and friendship for recovering soldiers. It was here the men learnt valuable skills to help them re-enter the community. It is believed to be the only purpose-built rest home remaining in Victoria.  The Red Cross Rest Home opened in the grounds of the Australian General Military Hospital No. 11 (AGH 11) in 1916. AGH 11, formerly Glen Eira mansion had been purchased by the government in 1914 and opened as a repatriation hospital for WW1 soldiers in 1916. The Rest Home was a described in The Argus as a handsome new rest home and a "Gift of Caulfield Citizens". Money to build the rest home had been raised at a carnival run by the Red Cross and the Patriotic League which raised 2,794 pounds of which 1,630 pounds was put towards building the Rest Home. In addition to the money raised, local families donated bricks, electric lighting was donated by local businesses and the wiring and installation was done by voluntary electricians from the Home Affairs department. 
Rest homes were built because there was nowhere for the soldiers to convalesce in the military hospitals other than on the verandahs or dining rooms and the men apparently soon became bored with these options. Rest rooms provided billiard tables, pianos and gramophones; they were centres for men to read and write and the Caulfield rest home had an excellent library. They offered the chance to see friends, play games and have morning and afternoon tea. The men were able to learn important skills such as wood carving, leather tooling, spinning, painting, raffia work and stitchery. It was thought these skills would enable them to supplement their pensions. The articles they made were often sold to raise more funds for the Red Cross. These pastimes were vitally important for the men's physical and mental health. In 1919 the Rest Home was being enlarged to include a pavilion for sick nurses (The Age 24 March 1919, p8).
The Rest Home continued to play an important part in Red Cross Services during and between two world wars. From 1958 it operated as a handicraft centre in the grounds of the then Southern Memorial Hospital, until the Red Cross' lease expired in 1976. In 2000 it was renovated and re-opened in 2001 as Montgomery Nursing Home with 30 beds for dementia and aged care patients.
Early in 2015 the rest home and the adjacent area was leased by the State Government and the Alfred Group to HammondCare, a Christian charity who plan to build a new aged care and dementia village on the site. The plans include demolition of existing buildings including Caulfield Rest Home, which is earmarked for demolition in 2017.
We Need Your Support
Please voice your opposition to the demolition of this important place by sending an objection to the City of Glen Eira.
HOW TO LODGE YOUR OBJECTION: Fill out the Objection to Application for a Planning Permit form, noting the conditions outlined on page 2. Alternatively, you can use this Objection Letter Template. Your objection should briefly and clearly detail your concerns, and how the proposal will affect you. Be sure to include your name and address, and the application number and property address: Application No: GE/PP-28748/2015 Property Address: 294 Kooyong Road CAULFIELD VIC 3162 Examples of grounds for objection include:
The Caulfield Rest Home is the only remaining building at Caulfield Hospital – established as a repatriation hospital for World War I soldiers – which dates to World War I. The Rest Home provided care for returned soldiers, many of who suffered catastrophic injuries and "shell shock" – Post Traumatic Stress Disorder (PTSD), and is one of the only surviving tangible links to a highly significant period of Caulfield's history.
The Caulfield Rest Home is significant to the Glen Eira community as a place built during World War I with funds raised by the community, and constructed with donated materials. It should be retained as a tangible link to the role of the Caulfield community in World War I, and the impact the war had on the home-front.
The Caulfield Rest Home is significant to the people of Victoria as the only remaining purpose-built Red Cross Rest Home. The Rest Home is a tangible link to the early history of the Red Cross in Australia, which was established in 1914 and played an important role in the convalescence of returned soldiers, and should be retained.
You can upload your objection inline at www.gleneira.vic.gov.au/submission, or email it to mail@gleneira.vic.gov.au, or post it to The Planning Department, Glen Eira City Council, PO Box 42 Caulfield South 3162. To view the Planning Application, Visit http://www.gleneira.vic.gov.au/Planning-and-business/Planning/Advertised-planning-applications. Click on "Planning Applications Currently Being Advertised" and search for Application No. GE/PP-28748/2015, 294 Kooyong Road, Caulfield.
You can also contact your local Councillors to voice your concerns.
Cr Michael Lipshutz: mlipshutz@gleneira.vic.gov.au
Cr Mary Delahunty: mdelahunty@gleneira.vic.gov.au
Cr Thomas Sounness: tsounness@gleneira.vic.gov.au
Cr Margaret Esakoff: mesakoff@gleneira.vic.gov.au
Cr Kelvin Ho: kho@glenira.vic.gov.au
Cr Neil Pilling: npilling@gleneira.vic.gov.au
Cr Jamie Hyams: jhyams@gleneira.vic.gov.au
Cr Oscar Lobo: olobo@gleneira.vic.gov.au
Cr Jim Magee: jmagee@gleneira.vic.gov.au
For enquiries and assistance, contact Felicity Watson, Senior Community Advocate at the National Trust.