100-year-old trees lopped in Daylesford
---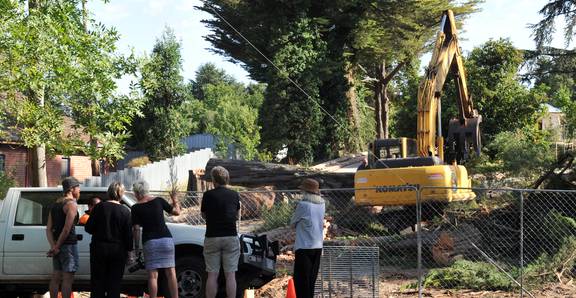 We were contacted last week by the Hepburn Advocate regarding the demolition of heritage trees at 37 Raglan St in Daylesford.
The property at 37 Raglan St Daylesford is partially covered by a Heritage Overlay (HO 698) under the Hepburn Planning Scheme.  The schedule to the Heritage Overlay shows that tree controls do apply within HO698.  As such, a permit is required to remove, destroy or lop a tree, unless the works are to keep a tree clear of a powerline, or if the tree represents an immediate risk of personal injury or damage to property.
The layered nature of the planning scheme has additional exemptions for trees near a fenceline (up to a combined maximum of four metres either side).  The bushfire protection exemptions that apply in rural Victoria also allows removal of any vegetation within 10 metres of a dwelling (constructed before 10 September 2009).
This action represents the latest example of heritage trees being removed in the name of public safety without any review by an independent arborist prior to demolition.
Click here to read the article in the Hepburn Advocate.  
Photo credit: Julie Hough / Hepburn Advocate