9 Melbourne CBD Modernist buildings receive interim heritage protection
---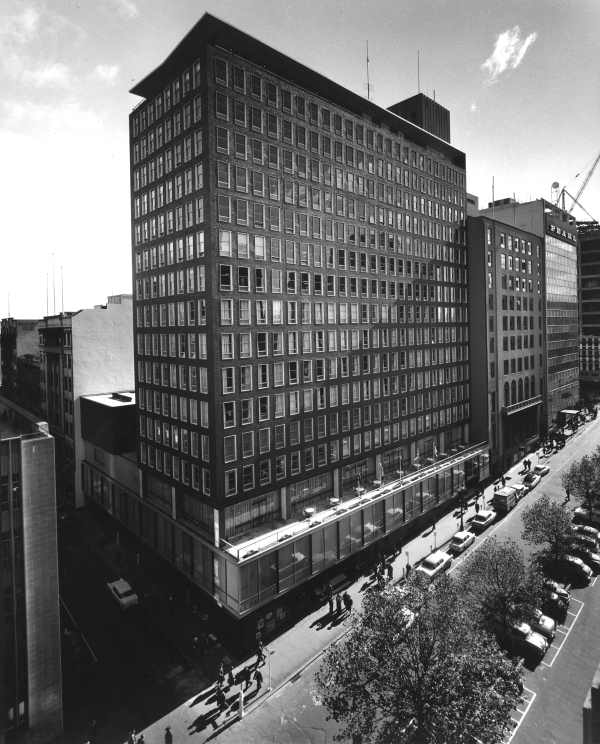 In 2011 the City of Melbourne proposed to expand local heritage protection to an additional 99 buildings in Melbourne's CBD under Planning Scheme Amendment C186. In 2013, Planning Minister Matthew Guy confirmed heritage overlay protection to 87 of these buildings, refusing to make a decision on 10 places he believed required further review. These 10 places represent significant post-war examples of Brutalist, Moderne and Modernist architectural styles.
Since Mr Guy's decision not to extend overlay protection to these building, the 10th building on the list, the former National Mutual building on Collins Street, has been demolished. As recently reported in the media, the site has just been given approval for a twin 41-storey skyscraper dubbed 'pantscraper'.
In a welcome turn of events, this past month the remaining 9 buildings awaiting determination have been granted interim heritage protection until the end of March next year. This protection means that while the buildings are not included on the Victorian Heritage Register, a heritage permit is required for their demolition. A new planning amendment from Melbourne City Council is required before these buildings can be granted permanent status. A closer look at these 9 buildings presents a fascinating narrative of emerging and evolving architectural styles, methods, materials and ideas. 
1. Hoyts Mid-City Cinemas, 194-200 Bourke Street
Brutalist architectural can be loosely characterised as 'the desire to achieve aesthetic effect through the deliberately frank expression of building construction, materials and technology'. While the style emerged internationally in the 1950s, it was not until the 1970s that Brutalism, in its undiluted form, began to appear in central Melbourne. The Hoyts Mid-City Cinemas on Bourke Street, designed by Bogle & Banfield and built 1969-70, was a notable early manifestation of the style. The building is significant due to its stylistically distinctive design which is 'outstanding among the small number of new cinemas built since World War Two', successfully blending 'traditional romantic cinema design with modern functionalism'.
2. Former Royal Automobile Club of Victoria (RACV) building, 111-129 Queen Street
The former Royal Automobile Club of Victoria headquarters on Queen Street was designed by Bates, Smart & McCutcheon, built 1959-1961. The building has a significant historical link with the RACV 'as a custom-built premises for new much expanded club functions'. Architecturally, the building is a substantial and well-preserved example of 'elegantly massed post-war Modern architecture', and an 'early example of fast-track design and construction'.
3. Former Commonwealth Bank Branch, 435-465 Elizabeth Street
Post-war architecture was not solely vested in the skyscrapers and multi-storey office blocks built by large corporations. Small-scale commercial buildings allowed architects the opportunity for architectural expression 'not possible with grander multi-storey buildings.' Completed in 1956 to the design of F.J. Crocker (Commonwealth Department of Works), the building is aesthetically significant for its innovative design 'in an architectural field that had been dominated by conservative design during the inter-war period.'
4. English Scottish & Australian Bank Co. Building, 453-457 Elizabeth Street
The former English Scottish & Australian Banking Co. Building (ES&A) on Elizabeth Street was designed by Chancellor & Patrick, built 1960. The building is significant as a 'successful interpretation of the Prairie School style, achieved against the economics and architectural precedents of the prevailing city architecture.' Architects Chancellor & Patrick specialised in the reinterpretation of Frank Lloyd Wright, with the ES&A reminiscent of Wright's 'Falling Water' with its 'familiar structural pi-sign thrusting cantilevered balcony and roof slab, rough stone cladding and geometric precast screens.'
5. London Assurance House, 468-470 Bourke Street
The former London Assurance House on Bourke Street was designed by Evans, Bernard & Partners, built in the 1950s. The building is architecturally significant as a well-preserved 'transparent all-glass curtain walled office,' constructed 'only three years after Melbourne's first city examples of the International Modernist 'glass box'.' Historically, the building is significant for its association with the rapid growth of the insurance industry, reflecting 'the use of naming rights of new City Buildings as a form of promotion and fund investment.'
6. Dillingham Estates House, 114-128 William Street
The former Dillingham Estates House was designed by Yuncken Freeman Architects, built 1973-6. Aesthetically significant as one of three Yuncken Freeman International Modern styled multi-storeyed office buildings within the Melbourne CBD, the building is 'distinguished by flush aluminium and glass façade displayed to full effect on an island corner.' The building is also part of a highly significant International Modern styled office group, including the Royal Insurance Group Building, BHP Building, Eagle Star, the AMP Tower and the St. James building complex.
7. Grange Lynne Factory, 185-187 A'Beckett Street
The former Grange Lynne Factory, later known as the White & Gillespie building, was designed by Edward Fielder Billson, a former pupil and associate of Walter Burley Griffin.  While the building is not post-war (built 1937), aesthetically it is highly representative of the Moderne style, counteracting 'curved verticals with horizontal elements to achieve a balanced, three-dimensional perceived design.' The building is historically significant as a well-preserved inter-war City workshop and warehouse, reflecting the long-term industry and warehouse concentration in this part of the CBD.
8. Atlas Assurance Co. Building, 404-406 Collins Street
The former Atlas Assurance Co. building, later the Guardian Royal Exchange building, was designed by Alsop H. Garnett & Partners, built in stages from 1957-1958, and 1960-1961. Like the London Assurance House building, the Atlas Assurance Co. building reflects the growth of insurance and assurance companies in Victoria during the 1950s-60s. Aesthetically, the building presents a 'slick and sealed aluminium-framed curtain wall' with 'natural ventilation and differing aesthetic.' The use of marble spandrel panels 'marks a transition from the all-glass wall to pseudo structural reconstructed stone and precast concrete facades' of the preceding decades.
9. Former Royal Insurance Group building, 430-442 Collins Street
The Royal Insurance Group building was designed by Yuncken Freeman Architects, built 1962-1965. While many questioned the construction of the grim-looking 'black stump' as it rose from the ground, the building is aesthetically significant 'as the most elegant, early pre-cast concrete clad International Modern office design in the city.' Indicating a high regard by architectural peers and the community, the building was awarded the RAIA Victorian Architectural Medal in 1967.
Quotes taken from Central City (Hoddle Grid) Heritage Review 2011, Graeme Butler & Associates.