Burton's Livery, and heritage in the CBD
---
Last Monday, Paul Roser spoke to Jon Faine on 774 ABC Melbourne about heritage protection in the CBD, after an 1862 building in the city was granted planning permission for demolition. Our affiliated group Melbourne Heritage Action generated substantial media interest in this news with everyone asking one question – how can this still be happening in 2016?
Read the article in the Age published Sunday 29 May 2016.
The Burton's Livery/Coach Builders dates to 1868, and was first identified by Graeme Butler's 1984 heritage study of the city when it was given a C grading.  When recommended with a small group of other buildings for protection under a Heritage Overlay in 2011, it failed to pass the vote at a Council meeting. Melbourne Heritage Action collected over 600 signatures petitioning the Council to urgently seek an interim Heritage Overlay. Without it, Council's planning officers (who had been delegated the responsibility for the permit decision) had limited power to consider heritage matters in assessing the application.
This example illustrates the utmost importance of the City of Melbourne completing their review of heritage controls in the city as soon as possible.  After lobbying by the National Trust and Melbourne Heritage Action in April this year, the City of Melbourne has committed to a staged review of heritage in the Hoddle Grid over the next two years.
An excerpt from the minutes of the Future Melbourne Committee meeting (19 April 2016) show the Council will commit $300,000 to fund the work.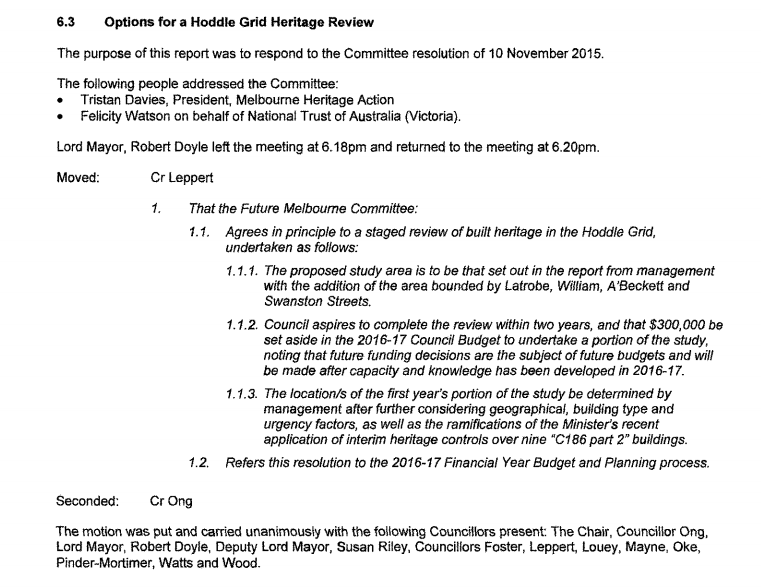 This good news follows a recent decision by the Planning Minister to gazette interim Heritage Overlay controls for 10 post-war buildings. These are the same buildings that were removed from Amendment C186 by the previous Minister. Now that the interim controls have finally been applied, heritage will be able to be considered in future permit applications for these 10 buildings, while permanent controls are considered, likely as part of the review that City of Melbourne have now committed funding to complete.