City of Port Phillip votes YES for heritage at Fishermans Bend
---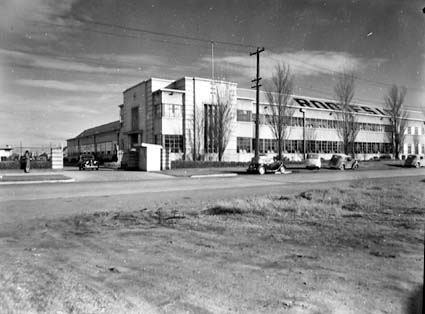 Last night City of Port Phillip Councillors voted in favour of a recommendation by Council officers to initiate heritage protection for a number of sites at Fishermans Bend including the former Rootes Factory which has been at the centre of a recent National Trust Campaign. The National Trust spoke in support of the motion at last night's meeting along with Port Melbourne Historical & Preservation Society, and the Art Deco & Modernism Society.
A handy map with existing and proposed heritage controls prepared by the Council can be downloaded here: E82781_15__Attachment_4_-_Heritage_and_Character_Buildings_-_FBURA
Media reports that an application has been received to build 179 townhouses at the Salmon Street site prompted the Trust to renew calls for appropriate heritage controls to be introduced at Fishermans Bend, with many important examples of industrial and architectural heritage in the precinct vulnerable to developers. Research that we commissioned into the Salmon Street site revealed details of its origins as a top-secret WWII tank facility, which received media coverage in the Age, highlighting the importance of Fishermans Bend to the community.
With one exception, Port Phillip's Councillors voted in favour of Council's recommendation to proceed with planning amendment C117 as well as a request to the minister for interim heritage controls to be applied whilst permanent controls are being publicly exhibited. It is hoped that this will keep the Rootes Factory out of the firing line while its heritage significance is properly assessed and tested before an independent panel.
The proposed planning amendment is informed by the 2013 Fishermans Bend Heritage Study by Biosis, as well as an Additional Heritage Places Assessments report prepared in 2015, which looked at a number of places in the area which do not have heritage protection. Amendment C117 will include the following sites:
Rootes/Chrysler Factory site at 19 Salmon Street, 291 & 323-337 Williamstown Road, 7-9 & 21 Smith Street and 332 Plummer Street, Port Melbourne
Horse trough, cnr Ingles Street and Williamstown Road, Port Melbourne
Electricity Substation at 98 Johnson Street, Port Melbourne
Johns & Waygood Buildings, 400-430 City Road, Southbank
Shops and dwellings, 496-510 City Road, South Melbourne
Shops, 157-163 Montague Street South Melbourne
The National Trust applauds this show of support from Port Phillip Council, as well as the detailed work being undertaken by Council's planning officers. At the meeting, several Councillors spoke passionately of their appreciation for heritage, with Cr Serge Thomann reflecting that "the future is better understood when people know about the past." We look forward to the amendment process which will invite public submissions, and a review by an independent Planning Panel if there are objecting submissions.
The National Trust believes that heritage must remain at the heart of Fishermans Bend in order to serve existing communities and create new ones. As heritage supporter David Brand said in his presentation to Council at last night's meeting, "building a new city without a strong sense of its history is a bleak concept."