East Paddock at Hanging Rock
---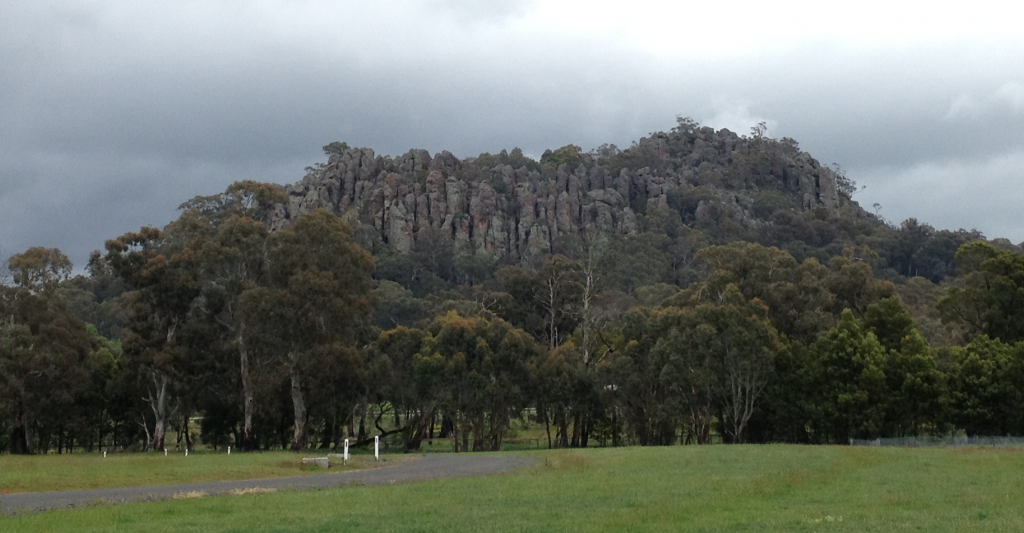 The National Trust have received a handful of enquiries regarding the Macedon Ranges Shire Council's proposal for tourism development at East Paddock, which lies to the east of the Hanging Rock Racecourse, and adjacent to Hanging Rock Reserve.  Council's preliminary plans are focused on the northern half of East Paddock, where a one- to two-storey conference facility is proposed, as well as a 100-bed accommodation facility in small cabin-style buildings in the south-eastern corner of East Paddock. 
The conference facility has been sited below the contour behind the amphitheatre used for music events, and will be further screened by tree planting along the ridgeline.  The site of the cabins is already screened by trees planted approximately 15 years ago.
East Paddock is Council-owned freehold, not Crown Land.
East Paddock is currently zoned Public Park and Recreation Zone, with several overlays including a Significant Landscape Overlay (SLO1 – Mountain Ranges and Features), a Vegetation Protection Overlay (VPO9 – Living Forest) and an Environmental Significance Overlay (ESO4 – Eppalock Proclaimed Catchment).  The Hanging Rock Heritage Overlay (HO88) only covers the western third of the reserve over Hanging Rock, and not the adjacent racecourse or East Paddock.   The Significant Landscape Overlay requires a permit for the construction of buildings, and that the Responsible Authority must consider that the proposal is compliant with the objectives of the Macedon Ranges and Surrounds Local Policy.  The Local Policy requires the preservation and enhancement of landscape by reservation or regulation of the use of land, paying particular attention to landscape areas & vantage points of high quality, and visual sequences along access routes.
The National Trust has met with the Macedon Ranges Shire Council's team responsible for delivering the masterplan's vision for East Paddock.  The National Trust expressed our concerns for ensuring any development is sensitive to its landscape context, and discussed design principles to blend the development into the rural landscape with a high quality architectural outcome, with specific regard to the types of buildings proposed for East Paddock.
One of the rumours circulating is that there will be a permanent stage facility, which is not true according to the Council.  Information sheets regarding the proposal are currently available on the Council website (click here).  The Hanging Rock Action group also have collated a lot of information including minutes of Council meetings and panoramic photos (click here).
We are currently waiting for the release of the detailed feasibility study/masterplan that was prepared in 2013.  No permits have been sought yet.