Executive Director recommendations to the VHR
---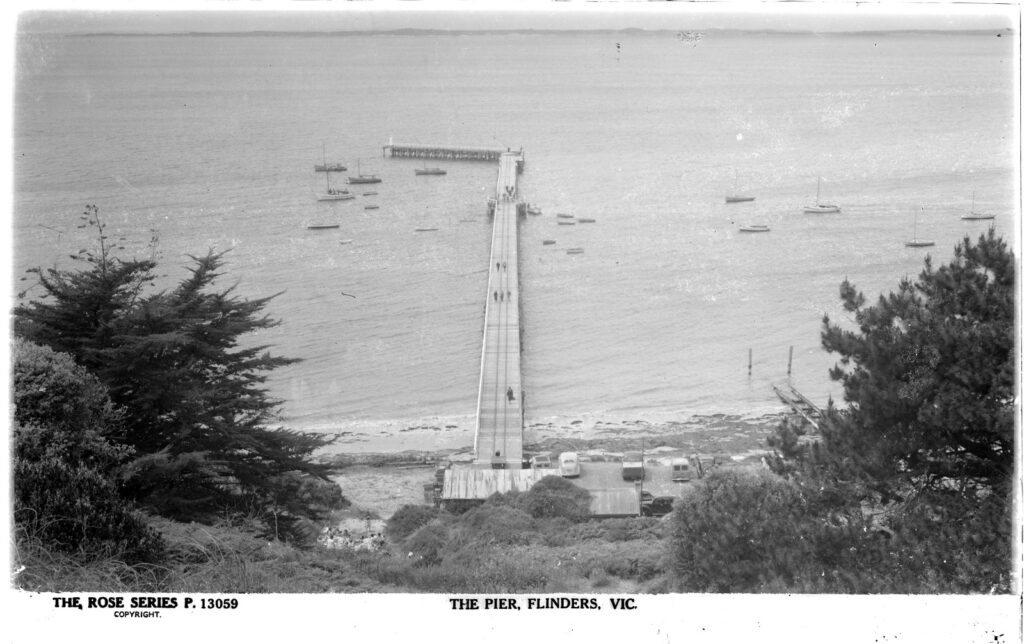 Feature Image: Flinders Pier c1920-1954, Image Credit: Rose Stereograph Co, Source: State Library of Victoria.
Periodically the recommendations made by the Executive Director of Heritage Victoria to the Victorian Heritage Council are exhibited. In early 2022 reports were released on several sites that were nominated by community members who believed these places were at risk from development and/or demolition.
Learn more about these fascinating places below:
Flinders Telegraph Cable Complex and Pier
Flinders Telegraph Cable Complex and Pier is a substantial and early submarine telegraphic complex, established in the 1860s, which provided an essential telegraphic link between mainland Australia and Tasmania for seven decades. The Flinders Pier, constructed from 1864 is of social significance to a community that observes and studies the Victorian Common or Weedy Seadragon, Phyllopteryx taeniolatus, the marine emblem of Victoria.  
Campaigns to save Flinders Pier have seen much attention in the media recently after announcements in 2020 that sections of the timber structure were to be demolished. Public outcry spoke to the historical significance of the pier and its importance as a habitat facilitating community observation of Weedy Seadragons. In early May 2022 the state government allocated $1.5 million to the piers restoration to the joy of the local community.
Read the Executive Director's Report on Flinders Telegraph Cable Complex and Pier
Caulfield Racecourse
Caulfield Racecourse is a historically and socially significant site, through its associations to horse racing, as the home of the Victorian Amateur Turf Club (now the Melbourne Racing club) since 1876, and as one of three remaining major racecourses in metropolitan Melbourne, that date from the nineteenth century.  
Comprising over three-square kilometres, the racecourse at Normanby Road and Station Street, Caulfield East is characterised by its expansive racetrack and central recreation reserve, as well as a complex of buildings dating from 1919 to the c.1990s.
In early 2022, development works that resulted in the loss or alteration of some interwar structures were halted through an Interim Protection Order (IPO) issued by the Victorian Heritage Council. A substantial number of mature trees were removed prior to the IPO, including a Lone Pine planted in 1995 on the fiftieth anniversary of the conclusion of World War II.
Read the Executive Director's Report on the Caulfield Racecourse
Kuring-Gai (Majellan House)
Kuring-Gai is located at 257 St Kilda Street, Brighton and is one of architect Cedric Ballantyne's most substantial surviving Californian Bungalow designs.
The property,  built in 1923, holds strong associations with the development of the Bungalow style in residential architectural design in Victoria in the early-twentieth century and has been celebrated twice in the popular architectural press, The Australian Home Beautiful.