Fawkner Park Heritage Victoria permit
---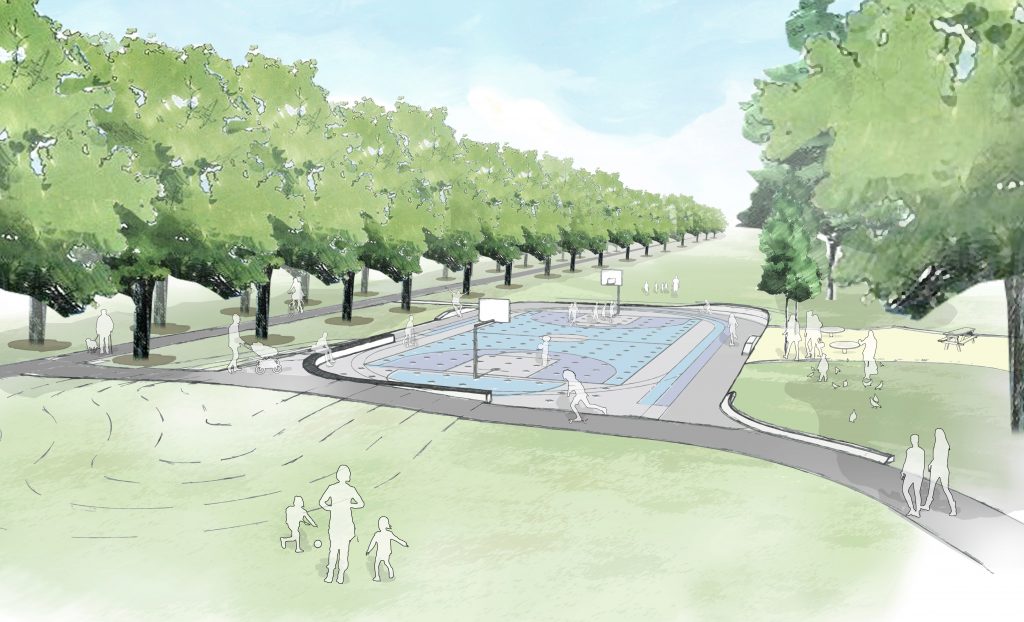 The National Trust has made a submission for a permit lodged with Heritage Victoria seeking to undertake improvement works to the Pasley Street entry zone of Fawkner Park. The works proposed consisted of the removal of the existing basketball court, and the construction of a new sports court further west, along with associated landscaping works and selected tree removal.
Fawkner Park is not included on the National Trust Heritage Register, however we do maintain a file on the place. We also have classified a stand of five Araucaria bidwillii (Bunya Buyna Pine) located on the northern edge of the park (near corner of Toorak Road and Marne Street).
The use of Fawkner Park as a sporting location is recognised in the Victorian Heritage Register Statement of Significance. The National Trust considers that this is a use that should be supported in the ongoing management of the park. Sporting use is generally throughout the park, largely on grassed playing fields. These features of Fawkner Park are well integrated into the design of the park, being part of the large lawn areas which are divided by established tree lined pathways.
Our submission raised concerns about the movement of the current basketball court, which is not an action considered in the 2006 Fawkner Park Master Plan. The proposed new location of the basketball court is further within Fawkner Park, is sited against the contours of the site and is a location more visually prominent in the landscape. This seeks to change a lawn area well within the park into a hard surface basketball court, which has a substantially different impact on the heritage significance of the park than other sporting uses. We considered that the current proposal would have a high impact on the visual landscape character of this area of Fawkner Park. We recommended further consideration of updating the basketball court in its current location. This would be less intrusive on the park, being located on the edge of the landscape, and would be an extension of its current use.
Our submission also noted that the 2006 Fawkner Park Master Plan was generally considered to be relevant for about 10 years after adoption by Council. In 2016 Fawkner Park was added to the Victorian Heritage Register. This reflects a change in the acknowledgement of the place's cultural heritage significance since the adoption of the 2006 Master Plan and that there is not a current Conservation Management Plan prepared for the place. The National Trust recommended that an updated Conservation Management Plan be prepared for Fawkner Park to guide any future change at the place.
A full copy of our submission can be read here.