Corkman Irish Pub developers win appeal to reduce fines
---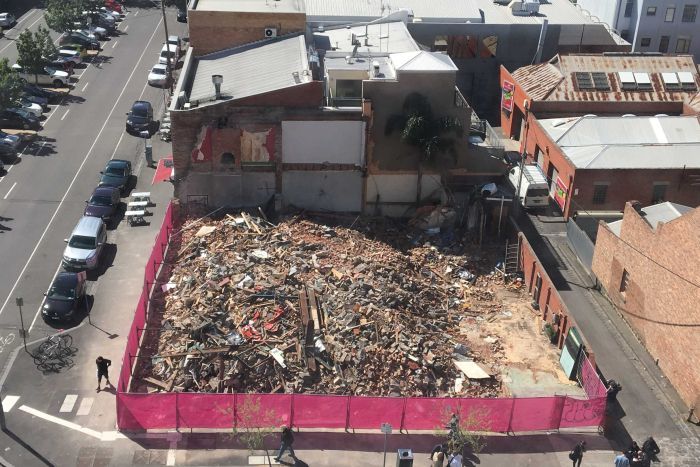 In February 2019, property developers Raman Shaqiri and Stefce Kutlesovski were fined almost $2m after pleading guilty to demolishing the Corkman Irish Pub without planning approval in October 2016.
In September, this fine was reduced to just over $1m after the pair appealed the penalty in the County Court. Judge Trevor Wraight, who delivered the sentence, acknowledged that this reduction may anger the community, however concluded that the offence did not warrant the maximum penalty according to current sentencing guidelines, stating:
It may be that the community – and possibly the sentencing Magistrates in this instance – regard the available maximum penalties in relation to this conduct as inadequate. However, unless and until Parliament increases the penalties available, Courts are bound by the proscribed penalty and must sentence in accordance with proper sentencing principle.
The sentencing decision includes a detailed account of the events which led up to and followed the unlawful demolition of the hotel, including enforcement action taken by the City of Melbourne, which was ignored by the developers who proceeded with the demolition after a Stop Work Order was issued.
Judge Wraight found that the actions of Shaqiri and Kutlesovski were a deliberate breach of law and motivated by the potential profit that could be gained from the demolition of the place, saying "the decision to demolish the Hotel was a deliberate, commercially informed decision which would have required a degree of pre-planning." He also found that there was "little, if any, evidence of genuine remorse on behalf of Mr Saqiri and Mr Kutlesovski".
News of the successful appeal follows an agreement that was reached at VCAT between the developers, the State Government, and the City of Melbourne in May that could see a tower of up to 12-storeys built on the site, with no requirement to reconstruct the former pub.
The National Trust calls on the State government to review current penalties to reflect the significant value of heritage to the community, and provide a strong deterrent to the destruction of heritage places. Illegal demolition cannot just become part of the cost of doing business.
Read more via ABC News here.
Image: ABC News, Gloria Kalache