UPDATE: Market Square public open space
---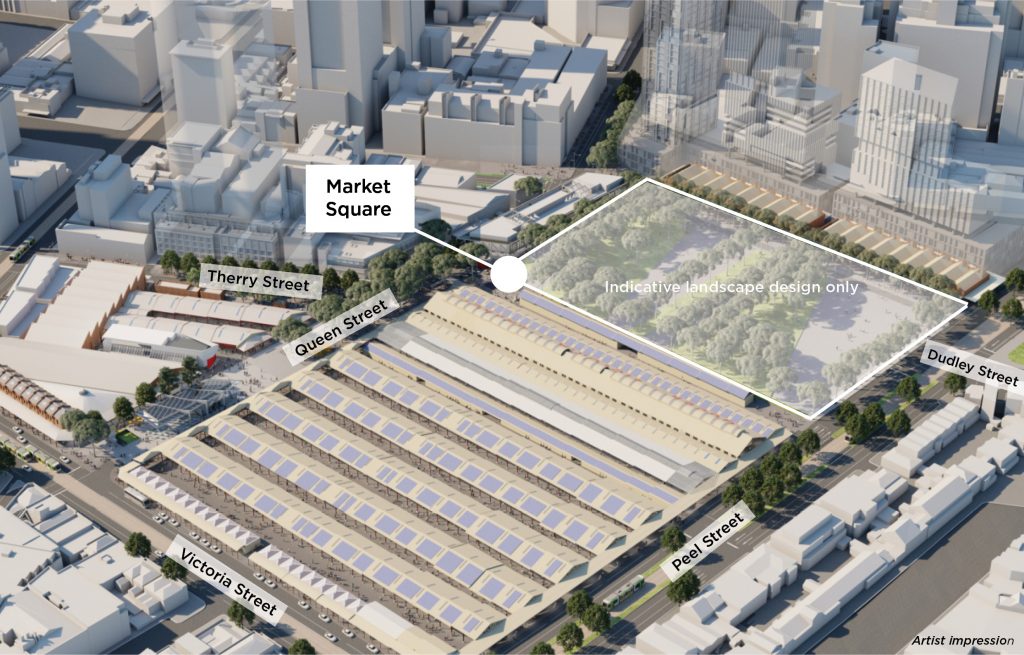 City of Melbourne is inviting community feedback regarding how Market Square, the new public open space proposed within the Queen Victoria Market precinct, should be used. Market Square has been identified by City of Melbourne as a key project of the $250 million Queen Victoria Market Precinct Renewal, to create a 'new people's park in the heart of the city'.
The City of Melbourne have provided the following background information regarding the proposed Square:
With car parking to be relocated nearby, the current customer car park will be transformed into a 1.5 hectare public open space. This commitment is also part of an agreement between the Victorian Government and City of Melbourne to support the revitalisation of the market precinct.

Following extensive public consultation to develop the Master Plan in 2015, which involved more than 7,500 people, we are now seeking to confirm how the community would like this important space to be used.

Recent population projections show that the number of residents in Melbourne CBD is expected to double from 52,000 to 109,000 by 2041. In addition to providing a vital public space for this growing population, Market Square will complement existing open spaces such as the nearby Flagstaff Gardens and the State Library forecourt which are already in high demand.

As well as being next to the market, Market Square will sit alongside existing and proposed buildings that will provide public amenities such as toilets and a range of hospitality offers.

The feedback we receive from you will assist in developing a charter for Market Square which will guide its future uses and activities. Following this initial round of consultation, we will be asking for the community's input in the first half of 2020 on the design of this new public space.
You can share your feedback by completing the online survey (linked here) before 1 November.
UPDATE – 13 January 2020
In November we made a submission to the Queen Victoria Market Renewal Team regarding a proposal to transform the existing carpark into a public park and event space dubbed 'Market Square'. In our submission we raised broader concerns regarding the impact that removing car parking in this location may have on the day to day operation of the market, and the proposed staging and transitioning of this space from customer car parking into public open space. We will provide further comment in the coming months in regard to the development of a Charter to guide future uses and activities, and the proposed urban design response.
Featured image courtesy of City of Melbourne