Horsham Town Hall & proposed regional arts facility
---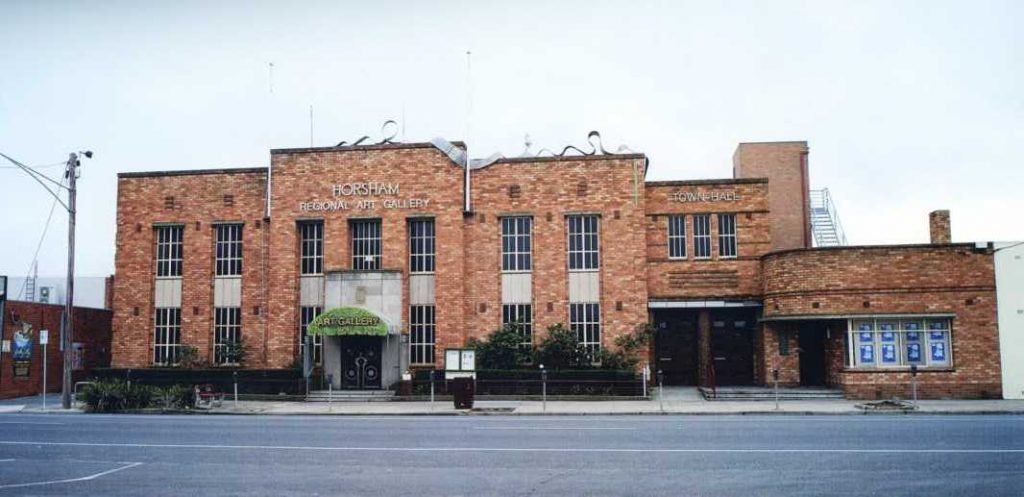 The Town Hall complex was designed by noted theatre architect C N Hollinshed, and the hall interior is a notable example of the Art Deco style. The Hall has served the community since 1939, and many want it to remain exactly as it is, while others want entirely new facilities. The 2010 plan involved replacing the hall and carpark behind with a new 500+ seat theatre space, a flat floor function space and other facilities. Earlier plans retained the hall space as part of expanded facilities on the site, including a new stage and backstage, foyers and seating within the hall, replacing the supper room and ancillliary spaces and the car park to the rear.  A heritage assessment by architectural historian Andrew Ward showed that the hall is significant, and Trust felt that retention of the hall as part of the redevelopment, or a new Arts Centre on a new site, would be preferable to total demolition of the hall.
The proposal to demolish the hall itself, while maintaining the front portion now used as the Horsham Art Gallery to create a Performing Arts Centre divided the town in September 2010.  At the Council meeting on 6 September 2010 Councillors voted 5-2 for a planning permit approving the proposal.
In February 2011, a VCAT decision was announced: further submissions were required on range of issues, including "whether the permit application achieves an acceptable outcome having regard to the reasons a permit is required, relevant design objectives, relevant decision guidelines and the purpose of Clause 43.02 and Schedule 5 [DDO5]."
In March 2011, Heritage Victoria recommended inclusion of the Horsham Town Hall on the Victorian Heritage Register.
The Council resolved in November 2011 to redesign its proposed Regional Arts facility around a retained hall.
In August 2012, a Heritage Victoria permit application was made for development of a new auditorium and function space and associated works and landscaping.
Up-to-date information about the redevelopment of the Horsham Town Hall is available at: http://www.horshamtownhall.com.au/redevelopment/