Impact Investment Group's plans for the Former Younghusband Wool Stores Complex in Kensington
---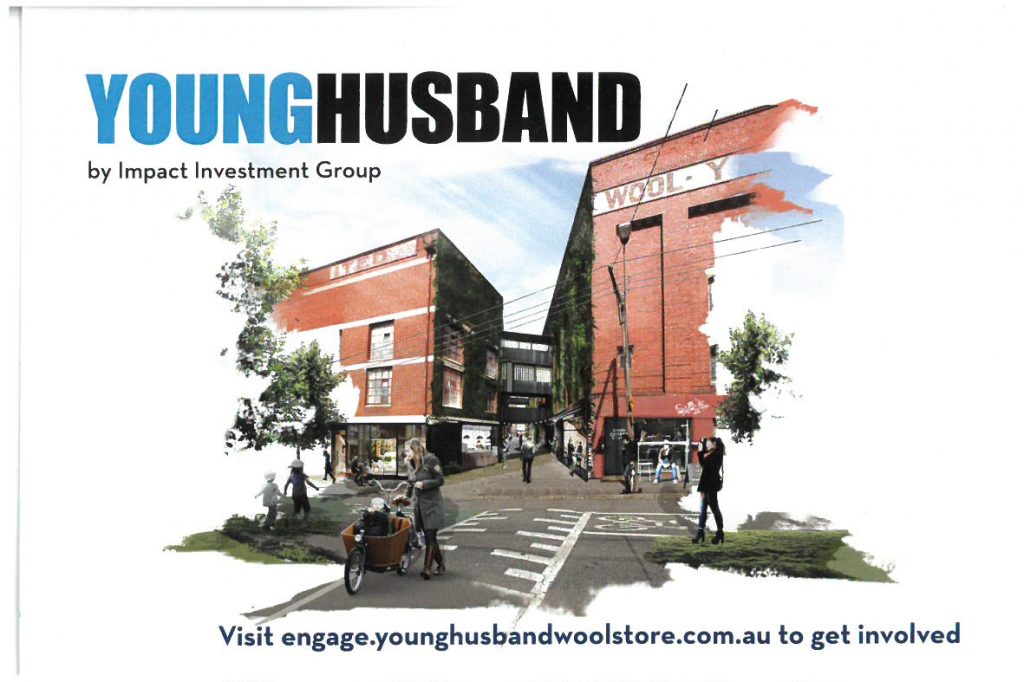 In April, National Trust Advocacy Team attended community engagement workshops and walking tour of the former Younghusband Wool Stores Complex in Kensington with Impact Investment Group (IIG), the current owners of the site. IIG purchased the complex back in December 2016, following a failed bid by EG Fund Management in 2011 to undertake extensive demolition, facadism, and the development of a 12-storey residential tower which was strongly criticised by the National Trust and rejected by the City of Melbourne. Impact Investment Group are now proposing a 'process of rejuvenation between now and 2020.' The site is protected by a Heritage Overlay in the City of Melbourne Planning Scheme. Site owners Impact Investment Group have committed to 'work with community stakeholders to transform the existing Younghusband space into a 'diverse urban village that celebrates curiosity, creativity and the cultural heritage of the site'. The intent of the group is to create a 'community-focused commercial hub, encompassing art, education, technology, hospitality, artisan manufacturing and innovation' while maintaining and enhancing 'the cultural and historic significance of the buildings'.
The National Trust supports the group's inclusive and transparent approach to the adaptive re-use of the complex, ensuring that the community has a chance for their concerns to be heard and activity incorporated into the master plan for the site. The National Trust also supports the group's intentions to create a site that is both water and energy neutral.
The National Trust will prepare a detailed submission in response to the plans once they have been exhibited by the City of Melbourne.
To read more about the proposed redevelopment, click here. To download the draft Master Plan, click here. Below is a collection of images taken during our tour of the complex: