It's Time
---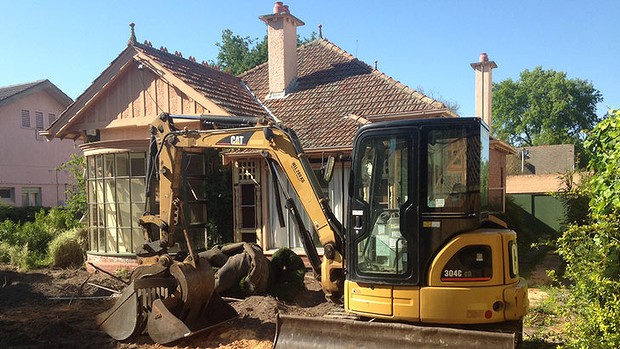 24 hours is a long time in politics, but the last 72 hours of decisions, statements, media releases, backflips and tweets on the fate of the birthplace of former Prime Minister Gough Whitlam have flown by. There has been a blizzard of claims and counter-claims between Boroondara Council and the Minister for Planning, Matthew Guy, but the net result is that (what is left of) of 46 Rowland Street Kew is now on the Victorian Heritage Register – for the time being at least. The Minister sought and received an Interim Protection Order from Heritage Victoria – despite the agency previously refusing an application.
This has been the most bizarre sequence of events around the fate of a putatively significant property that we can recall in many years. Prime Ministerial residences are not in short supply on heritage lists, but it raises the inevitable question about how long an association does a place need with a historically significant person to qualify as being of heritage significance? It is an incredible coincidence that the house was due to be demolished the day Gough passed away. Gough may have been born at the property but his early years were hardly his most significant in terms of his political legacy. Then again, Ned Kelly only spent four years aged 4-8 at the family home in Beveridge yet it is protected. Robert Menzies' birthplace at Jeparit was razed some years ago and a modest memorial erected on the vacant lot which became a small urban open space – with a public toilet block erected at the rear. So perhaps it is time we started being a little more strategic and a little less knee-jerk about these decisions.
We have prepared a short timeline of events – and an info-graphic – to try to make sense of it all! By our reckoning, there have been two demolition permits issued, one revoked, two applications for an interim protection order under the Heritage Act, one application for a regular Heritage Act listing, one application for a Ministerial heritage overlay, and at least four back flips by all concerned.
11/07/1916 – Gough born on kitchen table
25/10/1917 – Whitlams sell house & move to Sydney
1988 – Kew Heritage Study fails to identify the significance of 46 Rowland St, Kew
Nov 2013 – 46 Rowland St, Kew sold for $3.3M to overseas investor
11/04/2014 – Boroondara Council issues demolition permit, unaware of cultural significance
30/04/2014 – Property nominated to the VHR; Boroondara Council becomes aware of significance
07/05/2014 – Boroondara Council withdraws consent for demolition, asks Minister to apply a Heritage Overlay
June 2014 – Heritage Victoria refuses Interim Protection Order (IPO)
17/09/2014 – Minister Guy's delegate refuses Heritage Overlay
10/10/2014 – Boroondara Council issues consent for demolition order (again)
21/10/2014 – Gough Whitlam passes away; demolition begins at 46 Rowland St, Kew
22/10/2014 06.30am – 3AW Breakfast Radio quotes Heritage Victoria's executive director Tim Smith as saying Mr Whitlam's association with the house was brief and no events related to his public or political life occurred there, and that Mr Whitlam's passing does not change (Heritage Victoria's) decision.
22/10/2014 2.33pm – Boroondara Council tweets media release including timeline of events, supporting documents and heritage citation, with Cr Coral Ross laying blame squarely at the feet of the Minister:
"In the timeframe available to us, the only person in the State with the ability to introduce a planning control at short notice is the Minister for Planning. The Minister has the power under section 20 (4) of the Planning and Environment Act to initiate and approve an interim heritage overlay on this site.  Council does not have the power to do that."
Mayor Cr Coral Ross has issued a statement around demolition of 46 Rowland St, Kew – where Gough Whitlam was born http://t.co/LWapczJyDB

— City of Boroondara (@Boroondara) October 22, 2014
22/10/2014 – The Age quotes Minister declaring he is powerless to intervene since Boroondara have issued the demolition consent.
22/10/2014 – The Age reports the blame game
23/10/2014 11.19am – Minister tweets Heritage Victoria has granted IPO today following his application yesterday. 
Yesterday I applied for an Interim Protection Order for PM Whitlam's birthplace. Heritage Council has today made the Order. — Matthew Guy MP (@MatthewGuyMP) October 23, 2014
To preserve the house through an Interim Protection Order, will allow for a fresh consideration of its heritage given PM Whitlam's passing.

— Matthew Guy MP (@MatthewGuyMP) October 23, 2014
As PM Whitlam's birthplace, it is likely that the cultural significance of this house will become recognised more strongly as time passes — Matthew Guy MP (@MatthewGuyMP) October 23, 2014
This power under the Heritage Act is not available to the Planning Minister, hence my need to apply. Hopefully accurate reporting in future.

— Matthew Guy MP (@MatthewGuyMP) October 23, 2014

23/10/2014 12.20pm – National Trust starts graphing Time vs. Stuff Up Index for 46 Rowland St, Kew
23/10/2014 12.46pm – Age article, "Planning Minister Matthew Guy's backflip to save Gough Whitlam childhood home"
This Age story is typically, wrong. http://t.co/KfQHV2r9Gd

— Matthew Guy MP (@MatthewGuyMP) October 23, 2014
A reminder: PM Whitlam's birth home IPO was a decision by the Heritage Council, not myself. I asked them to reconsider given new evidence.

— Matthew Guy MP (@MatthewGuyMP) October 23, 2014
Update:
23/10/2014 4.17pm – Minister speaks to 3AW Drive program, saying:
 "anyone could have done what I have done, which is go back to the Heritage Council who assessed this permit earlier this year".
Feature image credit: Mark Hawthorne, The Age.