Members' Stand at Flemington Racecourse
---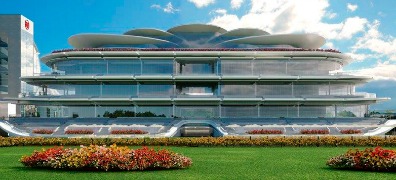 The social significance of one of the world's great horse races as run by the Racing Club of Victoria on the first Tuesday in November is manifest, but tying this intangibility back to something tangible, which is what Australian heritage registers demand, gives us the following: "Flemington Racecourse has aesthetic significance as one of the finest racecourses in the world, set in an expansive landscape with views towards the City of Melbourne." The 1924 Members' Stand "is significant as an unusual and largely intact example of a 1920s Inter-War Stripped Classical style grandstand." Tying significance to the fabric is much less convincing than the significance of the story.
So what are we to make of the Racing Club of Victoria's proposal to knock down the 1920s grandstand? It is not an architectural gem; there are bits and pieces of interest inside – in much the same way as there was with the old members Stand at the MCG. The stand is the largest part of the place with any significance tied to its physical form – i.e. architectural, aesthetic, even historical. However it can hardly be said that the significance of Flemington is intrinsically or inextricably tied to this building. We can therefore expect the Members' Stand at Flemington to be demolished.
The 1920s mosaic over the large doors was a gift form the the Country Racing Clubs in Victoria to the Victorian Racing Club and commemorates the service of the VRC to horse-racing since the 1840s. This should be recycled into the proposed new building – it tells a story eloquently about the long history of the VRC, and as a public artwork with association with Flemington it should be treated with respect.
Listen to interview on 3AW 4 March 2014.
Channel 7 news item 4 March 2014