National Trust strongly objects to plans for 33-storey tower at Harry Seidler's "Shell House"
---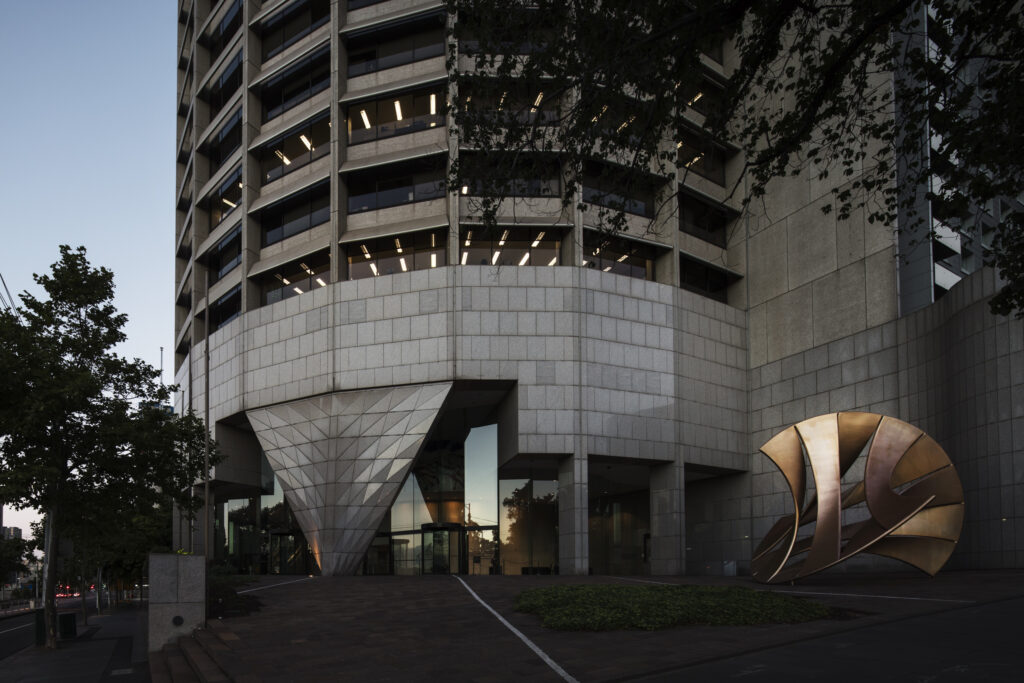 Feature image: Shell House, 2018, courtesy of Damien Kook. 
In March, we strongly objected to a Heritage Victoria permit application to construct a new 33-storey office tower on the northern part of Shell House (1 Spring Street), designed by the internationally renowned modernist architect, Harry Seidler. 
The application proposes the demolition of the podium and northern plaza facing Flinders Lane, including the level three garden plaza, original theatrette and part of the conference centre, and the construction of a 33-storey commercial building. The proposed office tower would also be constructed over the Art Nouveau Milton House (21-25 Flinders Lane), which is also included in the Victorian Heritage Register.  
The National Trust supported the nomination of Shell House to the Victorian Heritage Register in 2017, and was a party to the Heritage Council review for this registration. Is is recognised in the Register as being an outstanding example of a late-modernist office building. Its architect, Harry Seidler, remains one of the most successful and influential architects in Australia's history. In particular, he made a significant contribution to Australian architecture through his exploration of skyscraper design over a period of 40 years. Shell House is the only example of a Seidler-designed skyscraper in Victoria, and remains remarkably intact to its original design.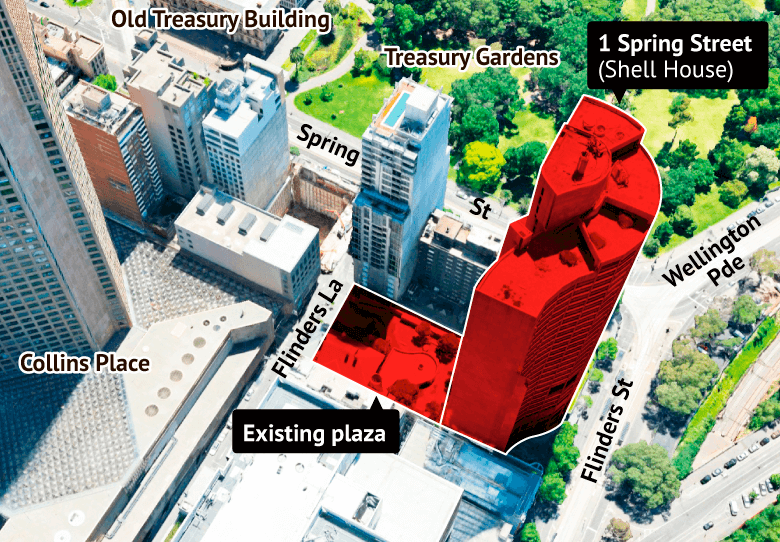 Image: Proposed development area. Sourge: The Age.
We strongly and fundamentally object to the permit application. Primarily, we believe that the adverse impact on the building and its setting, including its ability to be viewed and experienced in the round, would be unacceptable, and is not justified by the case for reasonable or economic use. 
Seidler's design for Shell House was holistic, and included the careful planning and design of internal and external spaces, including the corporate services such as the theatrette and conference centre, and the plazas to Spring Street and Flinders Lane. The Statement of Significance in the Victorian Heritage Register highlights the importance of the interiors and external plazas to the significance of the site, noting that "the quality of the interior spaces and their relationship to the extensive outdoor terraces at several levels of the building is of high aesthetic value, both visually and experientially."
Image: the northern plaza and podium of Shell House which is proposed for demolition. 
We therefore believe that the demolition of the podium and plaza, and construction of a new tower on the site, will have a detrimental impact on the architectural and aesthetic values of Shell House, and its carefully planned and holistic design.
We believe that the application must be refused, and that the adverse impacts contemplated in this proposal cannot be mitigated through changes to the design of the proposed development. 
Heritage Victoria are now reviewing submissions, and will make a determination on the permit application.
Read our full submission here.  
Read coverage in The Age here.  
Image: Harry Seidler's plan and sketches of Shell House. Source: Harry Seidler & Associates.