National Trust supports Executive Director's recommendation to include Swan Hill Pioneer Settlement in the VHR
---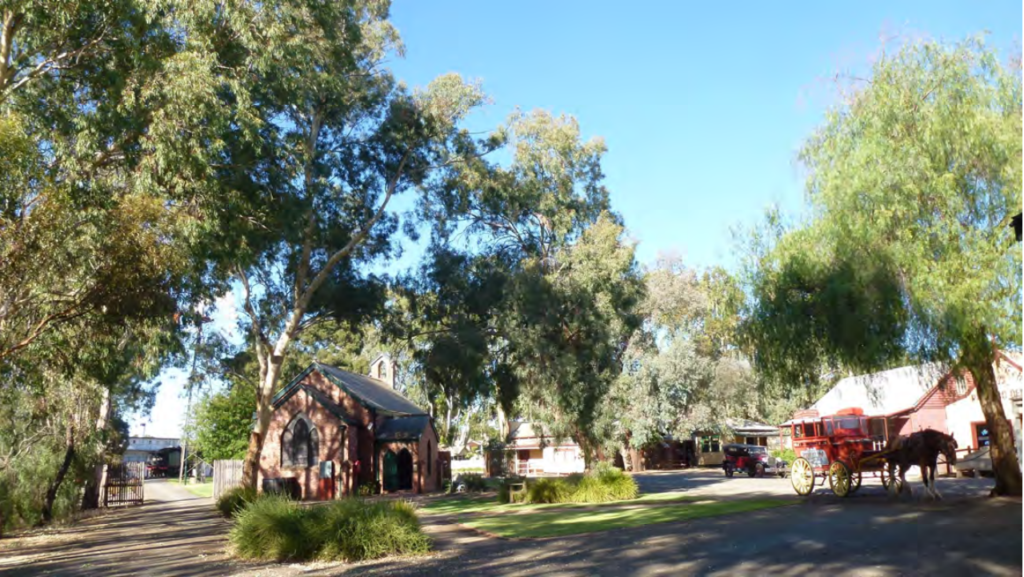 Feature image Swan Hill Pioneer Settlement, via Heritage Victoria
We have written to the Heritage Council of Victoria in strong support of the Executive Director of Heritage Victoria's recommendation that Swan Hill Pioneer Settlement should be included in the Victorian Heritage Register.
Stationed at the heart of the Murray River, on the traditional lands of the Wemba Wamba and Wadi Wadi peoples, the Pioneer Settlement has provided visitors with an experience of Victoria's late- nineteenth and early-twentieth century rural buildings and machinery since the 1960s. The Settlement contains both original and recreated vernacular buildings and large objects arranged in a parklike setting.
Swan Hill Pioneer Settlement warrants inclusion in the Victorian Heritage Register as the first and most influential example of the Museum Village movement in Victoria. Additionally, renowned Australian modernist architect Sir Roy Grounds is associated with the place, having provided architectural services to the Settlement for over thirty years.
Swan Hill Pioneer Settlement demonstrates value for its contribution to Victoria's cultural history (Criterion A), is of architectural significance (Criterion D), and is significant for for its association with Roy Grounds (Criterion H), who has contributed to the course of Victoria's history. The extent of registration includes 12 movable objects identified as being integral to the significance of the place.
The National Trust submits that the proposed extent of registration and significance assessment for the Swan Hill Pioneer Settlement will ensure its cultural heritage values
 are 
appropriately managed into the future
, and therefore we support the Executive Director's recommendation that the place be added to the Victorian Heritage Register. 
You can read the Executive Director's full recommendation report here.  
You can read our full submission here.