Oriental Hotel, Williamstown
---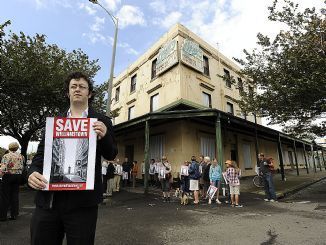 The Oriental Hotel is amongst the oldest three storey hotels in the State and is threatened with demolition as part of the Woollen Mills redevelopment. The Woollen Mills site comprises 1.72 hectares and houses a mixture of largely vacant warehouse buildings and offices that were formerly occupied by the Port Phillip Woollen Mills. The developer has refused to participate in a Master Plan process with Hobsons Bay Council for the whole site and has sought 17 individual applications in what should have been a single consolidated planning application as referred to in the Design and Development Overlay of C86.  
Click here to read the National Trust's objection.
Hobsons Bay Council has refused permit for demolition. As www.savewilliamstown.net say, one wonders why the O'Brien family who were the purchasers of the old Woollen Mills about 2005 had not looked at opportunities to use the hotel -particularly as PJ O'Brien runs a chain of successful Irish Pubs. Being adjacent to the shipyards with their 1500 employees and in the tourist haven of Williamstown, it would be an ideal place for them to run a business after restoring the old hotel.
It is expected that the matter will now go before VCAT.