Oriental Hotel Williamstown considered by Heritage Council
---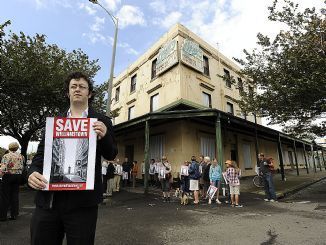 Hobsons Bay Council decision to refuse a permit for demolition of 1854 Oriental Hotel was overturned at VCAT in December 2013. The Oriental is a very early three storey hotel that has been left to languish by developers seeking to construct apartments.
Click here to read the VCAT Decision.
As some of the locals say, one wonders why the O'Brien family who were the purchasers of the old Woolen Mills about 2005 had not looked at opportunities to use the hotel – particularly as PJ O'Brien runs a chain of successful Irish Pubs. Being adjacent to the shipyards with their 1,500 employees and in the tourist haven of Williamstown, it would be an ideal place for them to run a business after restoring the old hotel. A nomination of the hotel for the Victorian Heritage Register is the last gasp attempt to prevent demolition, however Heritage Victoria has recommended that the hotel not be added to the Register. This can be appealed. Submissions are due by 21 April 2014.