Protecting Aboriginal Cultural Heritage: Recommendations for Reform
---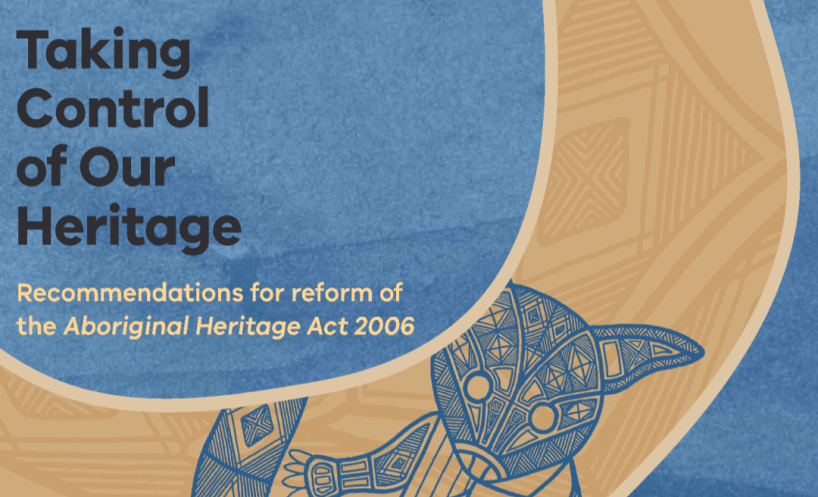 In recent years there has been an increase in media attention and public outrage over the lack of protection for Aboriginal Cultural Heritage across Australia. 
In Victoria, the Aboriginal Heritage Act 2006 (the Act) seeks to provide protection for Aboriginal Cultural Heritage. However, The Victorian Aboriginal Heritage Council (VAHC) report that: 
"The Act is currently failing to meet its objective that Aboriginal Cultural Heritage be managed by Traditional Owners; protected for their ongoing cultural connection and wellbeing, and enjoyed by all Victorians." 
In light of these failings, VAHC has consulted with Traditional Owners and the broader community to develop a series of recommendations that will significantly reform the Act, with the aim of providing genuine self-determination for Aboriginal Victorians to maintain, control, protect and develop their Cultural Heritage. This aligns with the United Nations Declaration on the Rights of Indigenous Peoples, which was formally endorsed in Australia in 2009. 
The recommendations for reform include: 
Prohibition on use of land of up to 10 years on owners who intentionally harm Aboriginal Cultural Heritage on site, in line with current provisions for non-Aboriginal Heritage

Introduce Civil Damages Provisions to urge higher rates of compliance for corporations concerned about loss of profit

 

Give Registered Aboriginal Parties (RAPs) first opportunity to prepare Cultural Heritage Management Plans (CHMPs) over non-Aboriginal Heritage Advisor services

 

Compulsory Consultation of RAPs During the Cultural Heritage Management Plan Process

 

Give RAPs authority of Consent in Relation to CHMPs. 

This would provide a mechanism to both give and withhold consent for harm to Aboriginal Cultural Heritage proposed during development projects

 

Transfer nomination process for appointment of Council Members from Minister for Aboriginal Affairs to the First Peoples Assembly of Victoria and the RAPs

 

Move Prosecution Powers to VAHC, in line with other statutory authorities with specialist knowledge, for example Environmental Protection Authority Victoria or RSPCA

 
Understanding how and why destruction of Cultural Heritage occurs, and what can be done to prevent it, is one of the many things you can do to support Victoria's Traditional Owners in the fight for greater self-determination. We strongly encourage all people to read the following paper, which includes VAHC's recommendations for reform, considerations that should be given in thinking about the recommendations, and community feedback received through the consultation process. 
Read more here: https://www.aboriginalheritagecouncil.vic.gov.au/recommendations-reform-aboriginal-heritage-act-2006