"Strata" saved from the skip after last-minute plea
---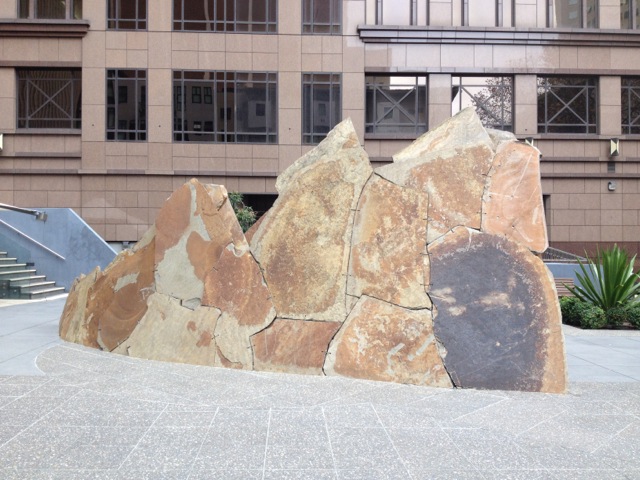 A week can be a long time in heritage advocacy. Battles can be won and lost, and important cultural heritage destroyed forever. So today we're happy to share a good news story after a roller-coaster week!
Over the past few weeks, our advocates, along with the National Trust's Public Art Expert Advisory Committee, have been working hard behind the scenes to try and secure a new home for a 10-tonne sculpture by internationally-recognised artist Chris Booth which is to be removed any day now from its CBD location for a forecourt redevelopment at 360 Collins Street.
When the proposed donation of the work to the University of Melbourne fell through just yesterday, an impassioned campaign was launched by artists Chris Booth and Fiona Clarke to find a new owner. Thanks to their work, as well as media coverage in The Age, we received news today that someone has stepped forward to save the work, with negotiations currently underway with the site's owner. While we can't yet reveal the identity of this white knight (or in this case, dark knight), we hope to share more details soon. We also acknowledge the tireless work and dedication of sculpture expert Ken Scarlett and Jane Eckett of the Trust's Public Art Committee in achieving this outcome.
A closer look at the work reveals a profound connection to Melbourne's geology and history. Of particular significance is the contribution of Warrnambool-based Kirrae Whurrong and Gunditjmara artist Fiona Clarke, who collaborated with Chris Booth on the work.
Artist Fiona Clarke has told us that "The sculpture itself is a major important work that honors the land and has used rock which is 400 million years old, and which is the same type of rock on which Melbourne stands. It also represent Aboriginal people and Chris used steel cable to tie the rocks together like an Aboriginal Possum skin cloak." (Fiona Clarke, pers. comm., 17 May 2016)
Chris Booth says "The treasured Lake Condah possum skin cloak inspired the eel trap petroglyph which Fiona cut into one of the stone slabs on Strata. This important art work by Fiona completes the symbolism of the possum skin cloak and, along with the involvement of Carolyn Briggs, authenticates the Indigenous significance of Strata." (Chris Booth, pers. comm., 18 May 2016)
The threatened removal of the work raises questions about the vulnerability of sculptures which are enjoyed by the public, but which are located on private property. We look forward to working with our Public Art Expert Advisory Committee to look at this issue in more detail, and working with developers and local government to better secure the future of our valuable public art.