NTAV submission to Heritage Victoria re Melbourne Metro on St Kilda Road
---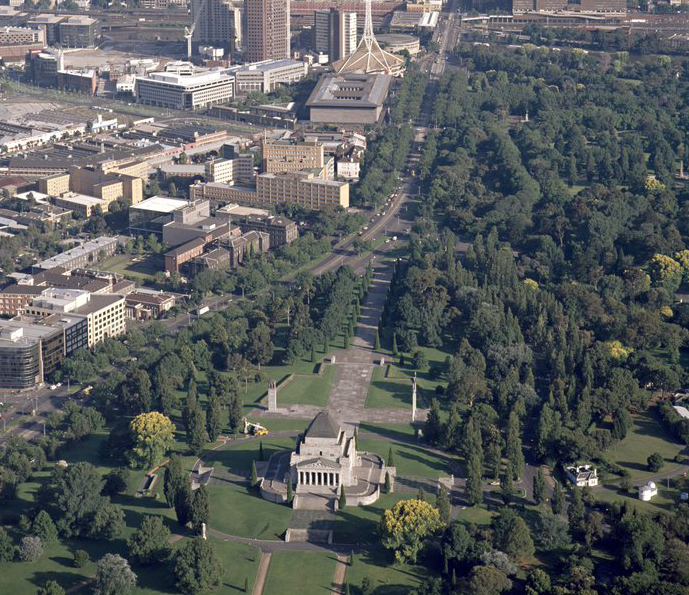 This week the National Trust of Australia (Victoria) made a detailed submission to Heritage Victoria regarding the Melbourne Metro Rail Authority (MMRA) permit for works on St Kilda Road, around the domain interchange. In order to establish a construction work area for the Metro Tunnel Project, MMRA are proposing to undertake mass tree removal, kerb and guttering removal, tram line realignment and alteration to the functional road layout. To read our submission in full, click here. Our submission was prepared in consultation with the National Trust Expert Tree Committee, and reflects our submission to the recent Melbourne Metro Rail Inquiry Hearing into the Environment Effects Statement. To read our submission to the EES Inquiry Hearing, click here.
The National Trust submits the removal of 103 trees along St Kilda Road will have an adverse impact on the clearly established significance of the place, which is characterised by largely consistent and continuous boulevard tree planting. The Victorian Heritage Register identifies St Kilda Road as demonstrating 'the characteristics of a boulevard at a high level, with consistent medians and trees extending almost the whole length of the road.' Taking this significance into consideration, the visual and amenity impact of the proposed works cannot be overstated. The expected minimum time for replacement of amenity and heritage value to the community for advanced tree replacement on this scale would be 20 years. This proposal would transform one of Melbourne's most recognised and valued vistas, viewed by thousands of locals and visitors moving through this landscape daily. We submit that all care must be taken to ensure that impacts to this important place are substantially minimised through sensitive detailed design.
The National Trust has a history of supporting avenue tree replacement as long as clearly documented reasoning for removal is provided, and that proper selection of trees/species is undertaken along with a strategy for subsequent management. The primary concern highlighted in our submission is that MMRA are proposing large scale removal of trees without adequate supporting documentation outlining reinstatement works. While we understand the need for some alteration of the St Kilda Road landscape to accommodate the new Metro Rail, the mass removal of trees without well-documented reasoning and a strategic plan for replacement and subsequent management is not acceptable. If landscape reinstatement works do not sufficiently replace what is proposed for removal, we have strong concerns about the long-term visibility of St Kilda Road as a continuous boulevard. While the Lovell Chen Heritage Impact Statement states that the MMRA intend to reinstate the landscape characteristics of St Kilda Road as part of this project, the present application by MMRA to Heritage Victoria does not make clear assurances that detailed plans have been made.
Featured image: Robert James Moss, Aerial photographs of the Shrine of Remembrance, Melbourne, Vic. 1980, State Library of Victoria.