Proposed demolition of River Pavilion in Fairfield Park sparks heritage campaign
---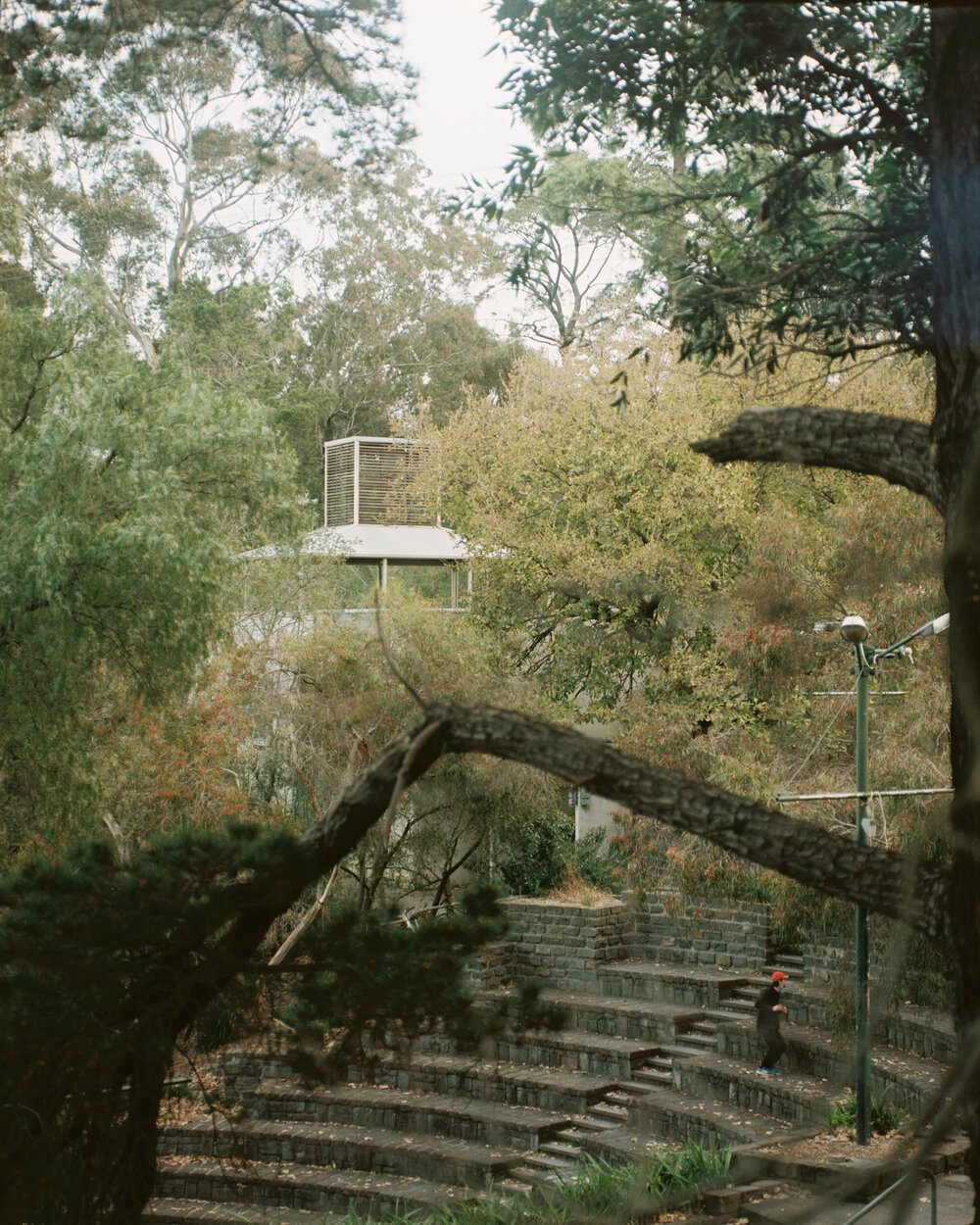 Feature image by Tom Ross 
In 2019, the City of Yarra approved a permit for the redevelopment of the River Pavilion, located between the Fairfield Amphitheatre and the Pipe Bridge in Fairfield Park, to make way for a much needed upgrade to facilities for the Ivanhoe Northcote Canoe Club (INCC).
The River Pavilion was designed by Dennis Carter and Paul Couch of Carter Couch and was completed in 1987-88. It remains an important piece of public work by this practice. Paul Couch worked closely with Robin Boyd for many years and was involved in some of Australia's most significant Modern buildings. While there is currently little published information on Couch's buildings, there is widespread interest in his work within the architectural community, and a book on his work is currently underway.
The decision to demolish the River Pavilion went against the advice of one of Council's Heritage Advisors, which found that the building has potential heritage significance, and was appealed at VCAT by Kennedy Nolan Architects (Kennedy Nolan).
While Fairfield Park is covered by a Heritage Overlay (HO147) in the City of Yarra Planning Scheme, Council argued at VCAT that the Statement of Significance does not mention the River Pavilion, nor does is attribute significance to post-war buildings, as the heritage value of Fairfield Park is as an Edwardian-era recreational area.
This is despite the view of Council's Heritage Advisor provided as part of the VCAT proceedings that the permit application should be refused because:
In conjunction with the bluestone amphitheatre, the pavilion structure and workshop/change rooms (subject site) have contributory social significance to HO147. They are, as defined by the Burra Charter, related objects to the heritage place.
New evidence has been produced which demonstrates that the pavilion structure and workshop/change rooms (subject site) may have state architectural significance in and of themselves.
Council's Heritage Advisor recommended that the issue be referred to the Strategic Planning department and further work should be undertaken to produce a Conservation Management Plan for Fairfield Park. They also recommended that Council should consider nominating Fairfield Park, including the River Pavilion and the Amphitheatre, for inclusion in the Victorian Heritage Register (VHR).
Kennedy Nolan Architects also provided a letter from Professor Philip Goad, leading architectural historian and noted expert in post-war architecture, which stated that the River Pavilion was significant as:
a sensitively-sited, architecturally-designed three level ancillary service structure, set into the landscape above and separate to the adjacent bluestone outdoor amphitheatre (c1985). On its roof is an open, steel-framed pavilion structure, whose pyramid roof form and tall ventilating 'chimney' makes abstract reference to the historic pavilion and rural buildings but without kitsch reproduction of period forms and styles.
a rare non-residential work by the highly regarded architect Paul Couch, then of the award-winning firm Carter Couch that operated in the 1980s and 1990s. Dennis Carter was the other senior partner of the firm. Couch, who worked for nationally significant architect Robin Boyd (1919-1971) for more than a decade assisting in the design and documentation of many of the best known houses of the 1960s, is a noted designer of innovative modern houses across Victoria that employ a minimal palette of materials expressed in their raw state.
a rare, non-residential example of Couch's long-held interests in tilt-slab precast concrete panel construction system that is often a defining feature of his better-known residential projects. From the late 1970s through until today, Couch has been a pioneer in utilising tilt-slab concrete panels in small-scale design settings, especially for one-off houses. Rather than see this system as one deployed only in factory construction, Couch uses the system not just for construction efficiency but also bold and effective aesthetic effect.
In August, VCAT supported the granting of the permit, as the River Pavilion is not currently identified as contributory to the heritage precinct in the planning scheme.
Kennedy Nolan has now launched a public campaign for the River Pavilion's retention, including a change.org petition which indicates strong community support for the retention of the building. In September, Kennedy Nolan also nominated the Amphitheatre Precinct, including related buildings such as the River Pavilion, to the VHR. The nomination is currently awaiting assessment by Heritage Victoria.
This issue further highlights the broader issue that post-war buildings represent a significant gap in places that receive statutory protection, as they are often overlooked or not included for assessment in municipal heritage studies. This is a challenge noted in Council's own 2019-2030 Heritage Strategy, which acknowledges that:
Previous heritage studies have not focussed on post-war heritage. This period needs to be further investigated, with places protected, so that this important part of the City's heritage is not lost (p13).
We have written to Council urging them to consider the heritage significance of the River Pavilion in the future management of the site, and to undertake further community consultation to inform a new design, which delivers much-needed facility upgrades for the INCC, without the permanent loss of a significant heritage asset. 
We are also calling on candidates currently running for election on Yarra City Council to demonstrate how they will ensure Council identifies, protects, and appropriately manages its own heritage assets, and to support a reconsideration of Council's plans for demolition.
Read our full submission to Council here.
Read more about our election plan here.