Trust acts to save Victoria's first curtain-wall building
---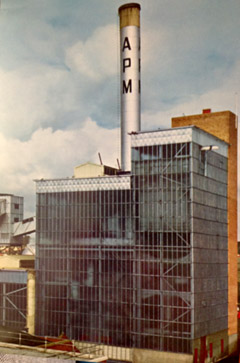 The Trust is currently lobbying Councillors for the City of Yarra in the lead-up to a Special Meeting of Council tonight to consider a Development Plan Assessment undertaken by Council officers for the Amcor site in Alphington.
The assessment recommends a specification for the demolition of the 1954 boiler house, essentially paving the way for its demise before a detailed assessment of heritage impacts can be undertaken at the planning permit stage.
Architectural historian Simon Reeves has identified the 1954 boiler house as being the first true curtain-wall building in Victoria, and the building epitomises the aspirations of postwar industry in Australia and internationally. It is also identified on the Royal Australian Institute of Architects Register of Twentieth Century Architecture and Works, as well as the Docomomo Australia Buildings Register (Australian working party for documentation and conservation of buildings, sites and neighbourhoods of the modern movement).
The National Trust believes that it would be unacceptable to earmark this important heritage building for demolition at Development Plan stage. Too often, industrial heritage buildings in an urban renewal context are lost because they are seen as an inconvenience. We argue that buildings like the 1954 boiler house have the potential to elevate new development at the site, and provide a landmark destination. The onus should not always be on heritage to fit conveniently into the plans of developers in order to maximise their profits; rather, developers must have an obligation to protect and celebrate our heritage to create better communities now, and in the future.
Tonight's vote by Councillors will be crucial in determining the future of this building, and we urge anyone with concerns to contact City of Yarra Councillors urgently.
Download the National Trust submission here.